Practice Guide - Drill One
WEAVE
Practicing this drill will help you in making quick lane changes in traffic or changes in direction.
Drill One: 20 foot Weave
Begin at one end of the parking lot lines or markers. Go to right of the first marker, skip the second marker, go to the left of the third maker and so on. Before attempting the 10 foot weave, make sure that you can perform the 20 foot weave several times without mistakes. Start at a speed of 10 - 15 mph.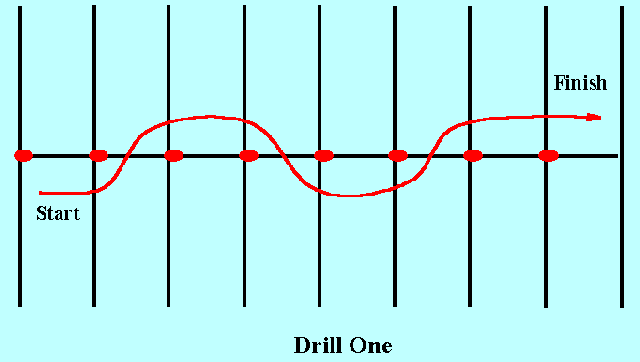 Coaching Tips
Keep head and eyes up.
Turn by pushing lightly on the handle grips in the direction of the turn. (Push right to go right, push left to go left.) This is countersteering.
Lean with the motorcycle for this particular exercise.
Maintain a steady speed.
| Problems | Corrections |
| --- | --- |
| Swinging too wide away from markers. | Look past the next marker, increase lean angle and push more on the handle grips. |
| Hitting markers. | Look past the next marker, decrease lean angle and push less on the hand grips. |

[an error occurred while processing this directive]
Last revised [an error occurred while processing this directive] [an error occurred while processing this directive]